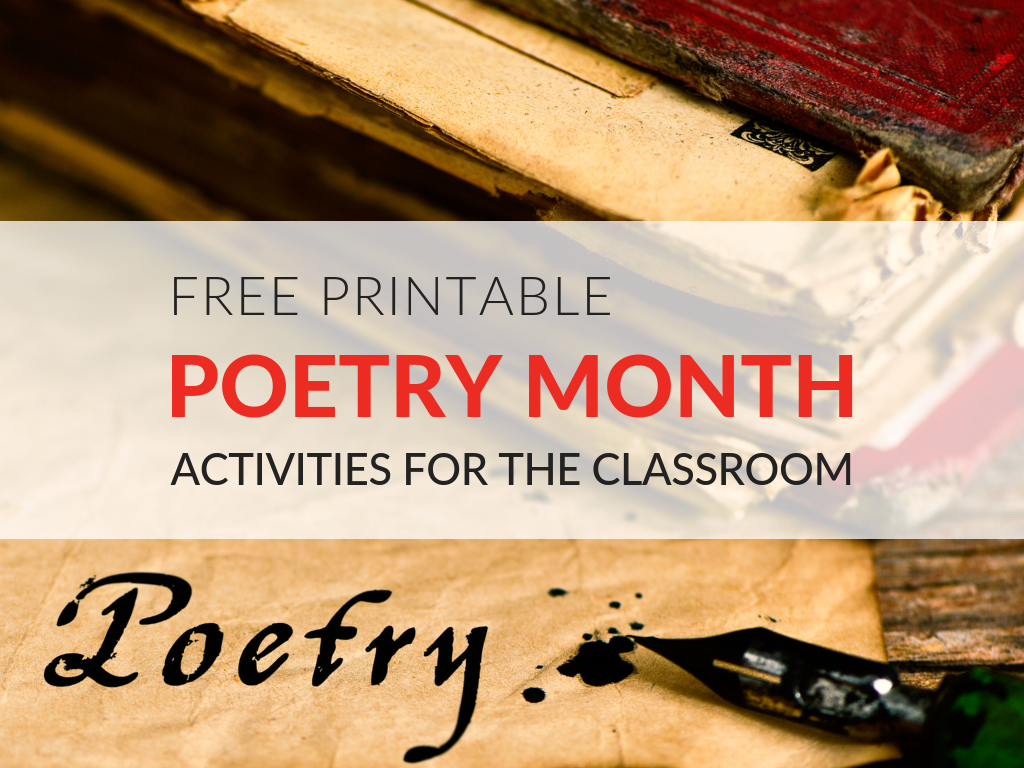 These fun poetry activities will make it easy to celebrate April's National Poetry Month at home or in the classroom. All month, students and teachers across the country (along with libraries, publishers, and poets) celebrate the art of poetry. With the FREE printable poetry resources in this article, teachers will be all set to help students celebrate!

Have students use these fun poetry activities and resources to celebrate  National Poetry Month in the classroom or at home!
Our free kit contains three April poetry month worksheets! The first worksheet outlines ten ways students can explore poetry. From apps to tweeting poems, this list gives you a variety of ideas for making National Poetry Month exciting for your students.
The other two poetry resources in the kit are specifically for Poem in Your Pocket Day (April 27). This calendar holiday is when people throughout the United States select a poem, carry it with them (in their pocket), and share it with others throughout the day. Have your students participate by writing their favorite poems down on the Poem in Your Pocket Day Scroll Template. Or you could have students create a Poem in Your Pocket Day Booklet using the last worksheet included in the kit.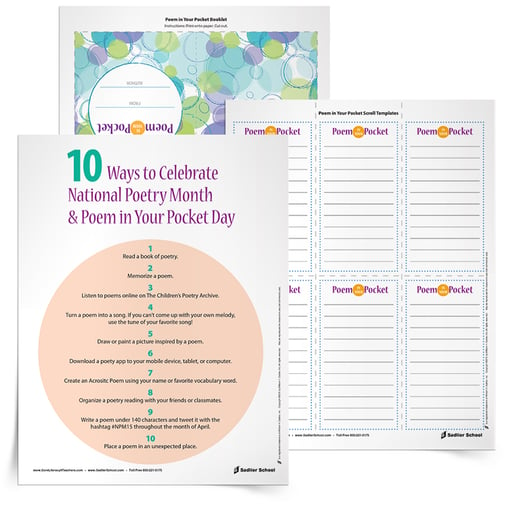 #2 Poem in Your Pocket Vocabulary Activity
On April 27th, students across the nation won't be walking around campus with their favorite poems tucked in their pockets, but that doesn't mean they can't do it at home.
Instead of having students choose a poem from a published poet, have students create their own vocabulary poems to share! That way, when students recite their poems, they are not only celebrating poetry, they are also celebrating (and reinforcing) vocabulary.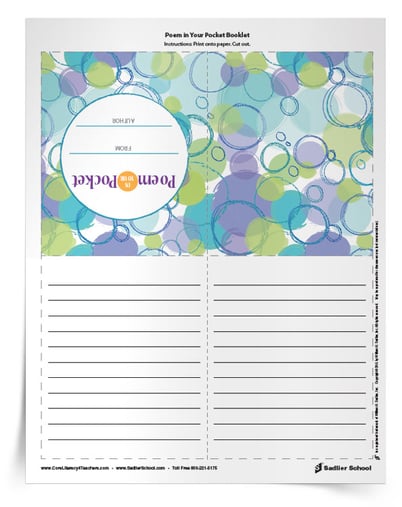 How it works…
For this activity, students will define a vocabulary word in the context of a short poem. The poem can rhyme (but does not have to) and the goal is for students to explain the meaning of the vocabulary word using succinct but powerful language, specific examples, and a strong ending.
And because the poem is meant to be carried around so it can be recited at any moment, it does not need to be long. After assembling a Poem in Your Pocket Day Booklet, have students write a final copy of their 2–3 vocabulary poems in their booklets and then record a video of them reciting it!
Here are two examples that I wrote:
EXAMPLE 1
Command
To command is to give orders
By one who is in control.
If you are wise, you will obey
the instructions, which is your role.
If you fail to follow the leader,
and the commands that she did make,
you will quickly find that you
have made a rather grave mistake.
EXAMPLE 2
Supercilious
The girl was supercilious.
Her nose was an upturned ramp that her eyes skated down.
Her eyelids were lowered, so all you could see could see
were three shades of eyeshadow, perfectly blended.
Her skirt swished and swayed a subtle "no,"
its design was not for you.
Her shoes click-clacked the phrase "you-wish, you-wish, you-wish."
But in the end,
the only reason
that she could act so superior
was because you believed
#3 Facebook Poet Profile
This fun printable activity combines research, poetry, and social media! With the Facebook Poet Profile Poetry Activity, each student will research a poet and use the information he or she gathers to create a mock Facebook page. Using the printable Facebook page template, students will create a profile and cover image, fill out an "About me" section, and write status updates as if they are the poet!
Once complete, have students present their Facebook page and a poem from their assigned poet. Download the Facebook Poet Profile Poetry Activity now.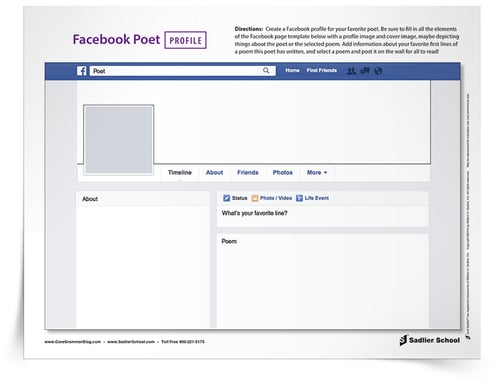 #4 Literary Devices in Poetry
National Poetry Month is a great time to review and assess students' knowledge of literary devices in poetry! Download an interactive card matching activity to see what your students know. If you know your students might struggle with some of the terms, simply pull the card and its definition out of the card stack before you do the activity. You can use them later to introduce the term!
The Literacy Devices in Poetry Activity also includes an answer sheet!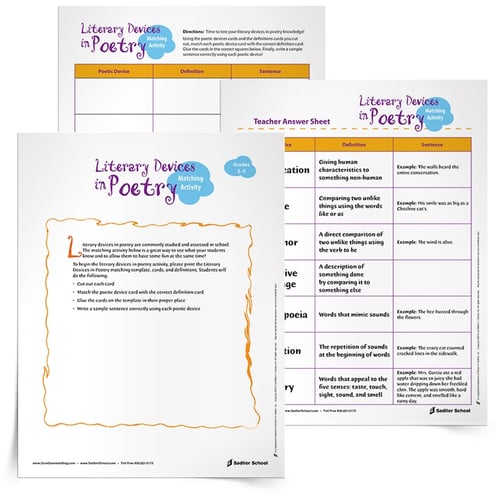 #5 Math Poetry Activity Examples
Last year, Dr. Jeff discussed poetry activities that can be used in the Grades K–8 students. In his article, Dr. Jeff shared a powerful quote by poet Enriqueta Carrington.
Mathematics and poetry are the same thing, or one is a translation of the other. Well, perhaps that is an overstatement; but both math and poetry are about beautiful patterns, about creating, gazing at, and sharing them, and about appreciating those created by others. It is not necessary to be a great mathematician or a great poet to enjoy this beauty, as I can tell you from my own experience.*
Download the Math Poetry Activity Examples Tip Sheet and make poetry a priority in the virtual mathematics classroom this month! This resource includes ideas for square poems, proportional poems, and poems using number sequences.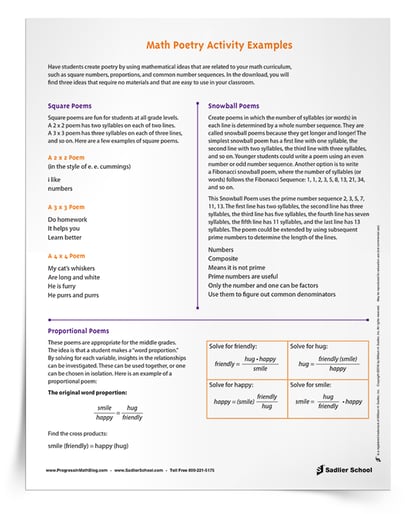 #6 Number Bond Poetry Frames
Another activity that can be used in the early grade levels is the Number Bond Poetry Frame worksheet. With this activity, students write a short poem using the frame then write the number bond and an addition sentence to represent their poem. The frame connects math to English Language Arts by focusing on Common Core Standard W1.2: Write informative/explanatory texts in which they name a topic, supply some facts about the topic, and provide some sense of closure.
Here are some examples of the poems students could write:
I have 18 pieces of fruit
4 juicy oranges and
14 red strawberries
I am going to make a fruit salad with my mother
There are 16 animals in my yard
10 cute kittens and
6 brown puppies
We are going to have fun playing with them.
To starting writing poems in your virtual classroom download the Number Bond Poetry Frame worksheet now.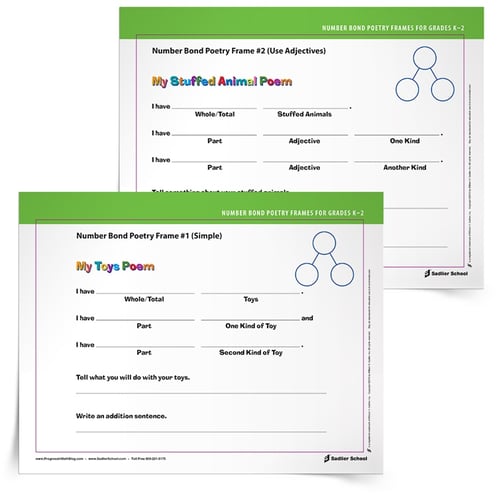 #7 Humorous Poetry Close Reading
Use April National Poetry Month to help students sharpen their close reading skills by applying them to a set of two different humorous poems on topics they're sure to know a little something about: the pain of waking up early and the torture of being stuck inside working when you just want to play outside!
The Humorous Poetry Close Reading Kit is designed to help students analyze and make connections between these two poems with similar themes. This fun, close reading lesson plan will encourage middle schoolers (who normally balk at the prospect of reading poetry) to:
Analyze two complex poems about a similar topic
Complete multiple reads of each text
Practice their annotating skills
Answer increasingly difficult text-dependent questions
Reflect, write, and make connections across texts
Using poems selected with the sole purpose of making your students chuckle, this lesson plan will be sure to engage your students, energize them for their next ELA lesson, and push them to deeper levels of textual analysis. Download the lesson plan kit now!