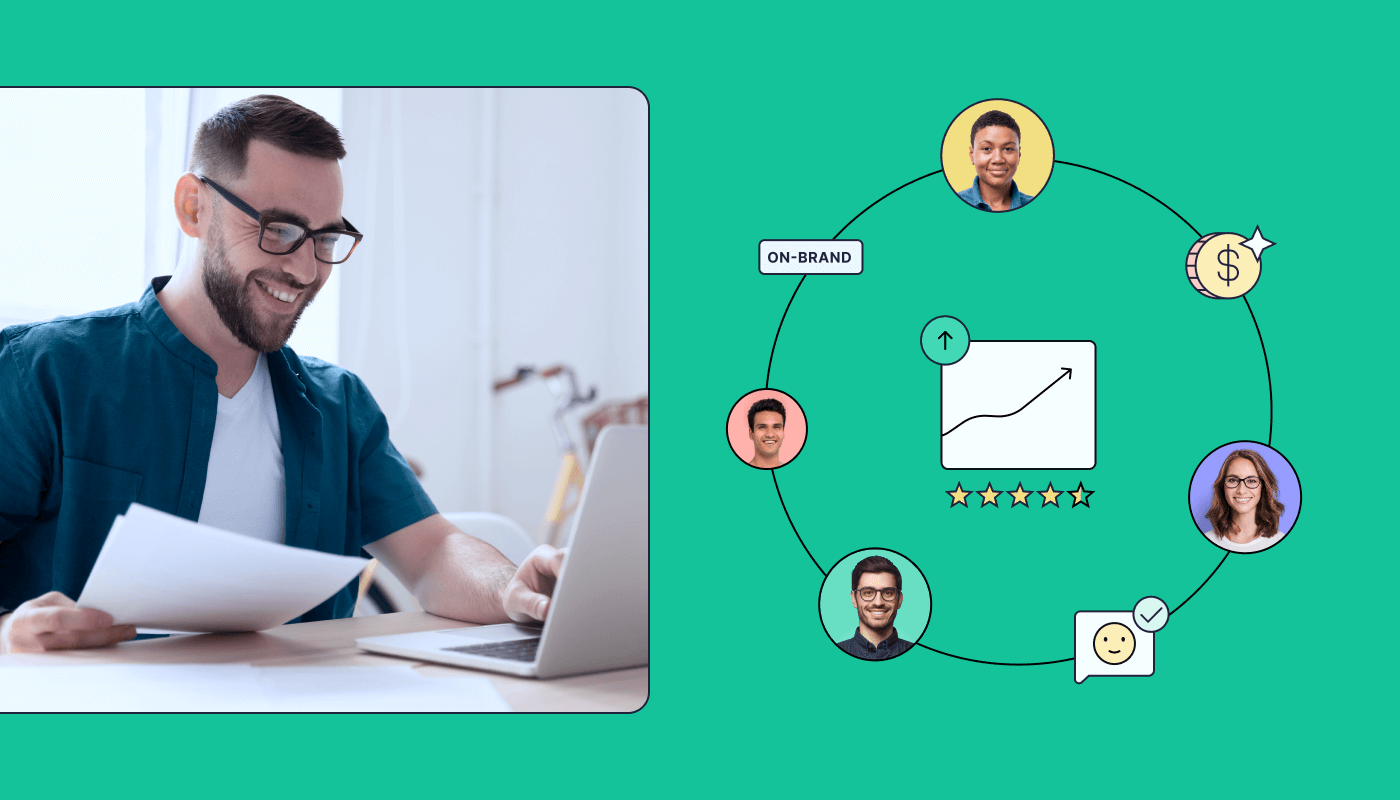 Effective business writing is like oil in the machine of your daily operations—it makes everything run much smoother. Improving the efficacy of your organization's writing imparts many essential benefits:
Boost productivity by reducing time spent writing and editing.

Prevent miscommunications, inefficiencies, or project failures.

Increase brand loyalty by enhancing the customer experience.

Allow your team to refine and develop their writing in different areas.
Ineffective communication can cause unnecessary confusion, complications, and frustration— leading to productivity, engagement, and revenue loss. In short, it becomes a wrench in the gears that slows your workflow.

Let's explore five core principles of effective business writing and how they can improve communication within your organization. 
Principles for effective business writing
1


Align your writing style to your audience
Ask yourself: Who am I trying to reach with this message and why? There are subtle but significant differences in how you would approach different assignments. For example, writing an informative progress update for your team members differs greatly from drafting persuasive content for a blog post meant to draw in potential customers. To write to an audience effectively requires knowing their pain points and motivations. Then, you craft communication that addresses those needs.
Understanding how and when to use different business writing styles will greatly impact whether your message achieves the desired result.
Aligning your writing style to your audience improves engagement by removing unnecessary "fluff" that does not directly speak to your recipients' priorities.
2


Tailor your tone to the task at hand
Go beyond professional and empathetic business communication by tailoring your writing tone to the context of your message. There are a number of factors to take into account here.
Who are you communicating with? An internal email to a direct report, for example, should look different from a one-on-one conversation with a customer. What is your role within the company? HR communications tend to require a higher level of empathy than, say, a report from the sales department. Even your choice of channel can be a factor here—a live customer support chat, for example, must be both more compassionate and concise than an in-depth company health report emailed to your CEO.
When in doubt, you can use Grammarly's tone detector to verify that your message is hitting the right notes. Our new brand tones feature is particularly useful in ensuring that your tone is also always aligned with your overall brand personality, regardless of the specific context of your communication.
A carefully tailored tone fosters better business relationships by ensuring your messages are always interpreted as you intend them to be.
3


Leverage structure and formatting to improve clarity
Formatting can make a world of difference in how effectively you get your message across to your audience. A casual email format, for instance, would not be suitable for a complex, in-depth company health report. And if you've ever received a ridiculously long email from a colleague that left the main point of the message until several scrolls down, you know how significant structure is in keeping your audience engaged.
Subtler choices, such as the font, spacing, and alignment of your document, can also impact efficacy. Choosing the proper format improves readability, reducing unnecessary frustration for your audience. This also allows them to focus on what matters: the content. Automated writing assistants like Grammarly make this process easier by allowing you to instantly evaluate readability and revise your structure and formatting accordingly.
Formatting for readability means your recipients can quickly and easily identify your main purpose point—which leads to faster response times.
4


Maintain consistency
Consistency is key to establishing and maintaining trust and rapport with customers, clients, and colleagues alike. Avoid industry jargon and complex academic language that may sound impressive, but can ultimately confuse or frustrate audiences and detract from the efficacy of your message.
A brand style guide can be a powerful tool for keeping your team—and the company as a whole—on the same page. Your style guide can help in projecting a cohesive brand presence across all communications. Maintaining consistency fosters trust in your brand as a reliable authority while also improving brand recognition.

5


Write with a clear call to action in mind
A clear call to action is vital for crafting effective communications that inspire action and generate results. Clearly defining your expectations or "ask" of your audience does more than just get the job done; it also lets you connect more honestly and directly with your recipients, who will likely appreciate your straightforwardness. Even if your only intent is to share pertinent information, be sure to clarify that no further action is necessary on your reader's part.
Once again, tailoring this element to your specific audience will ensure efficacy. A call to action for an employee, for example, might be much more direct—clearly laying out a set of expectations to be fulfilled—than one addressed to a client you hope to inspire a buy-in from.
Example:

Your marketing team is launching a new email campaign to promote an upcoming product release. The goal, of course, is to motivate customers to learn more about—and ideally pre-order—the product. As such, you and your team are careful to include a clear and prominent call to action in every email that includes when the product will be available, where to place an order, and how to use a special subscriber discount code included in the email.
A clear call to action promotes efficacy by preventing misunderstandings, improving internal productivity (by clarifying expectations), and fostering positive customer and client relationships through an improved experience.
Ways to implement effective business writing principles
Now that you're familiar with the fundamental principles of effective business writing, it's time to begin implementing them. Here's how: 
Host regular team trainings

centered around understanding these principles and how to apply them. Doing this offers an excellent opportunity to ask and answer questions and have in-depth discussions surrounding more specific areas for improvement. A

company-wide workshop

, on the other hand, can help ensure

everyone

is on the same page and promote better interdepartmental collaboration.

Implement an advanced writing tool

. This allows you and your team to streamline workflows and automate certain steps of the writing process.

Grammarly Business

can instantly analyze your writing and provide suggestions to improve clarity, tone, spelling and punctuation within seconds. The style guide feature can also analyze every team member's writing against a customizable company style guide to ensure every communication is fully aligned with your brand's language and specifications.
Effective business writing takes time to learn But with the right technology on your side, you and your team can start making huge strides forward as soon as today.
Ensure your business writing tips are implemented effectively with the help of a digital writing tool like Grammarly Business. Contact us to learn more or upgrade now!