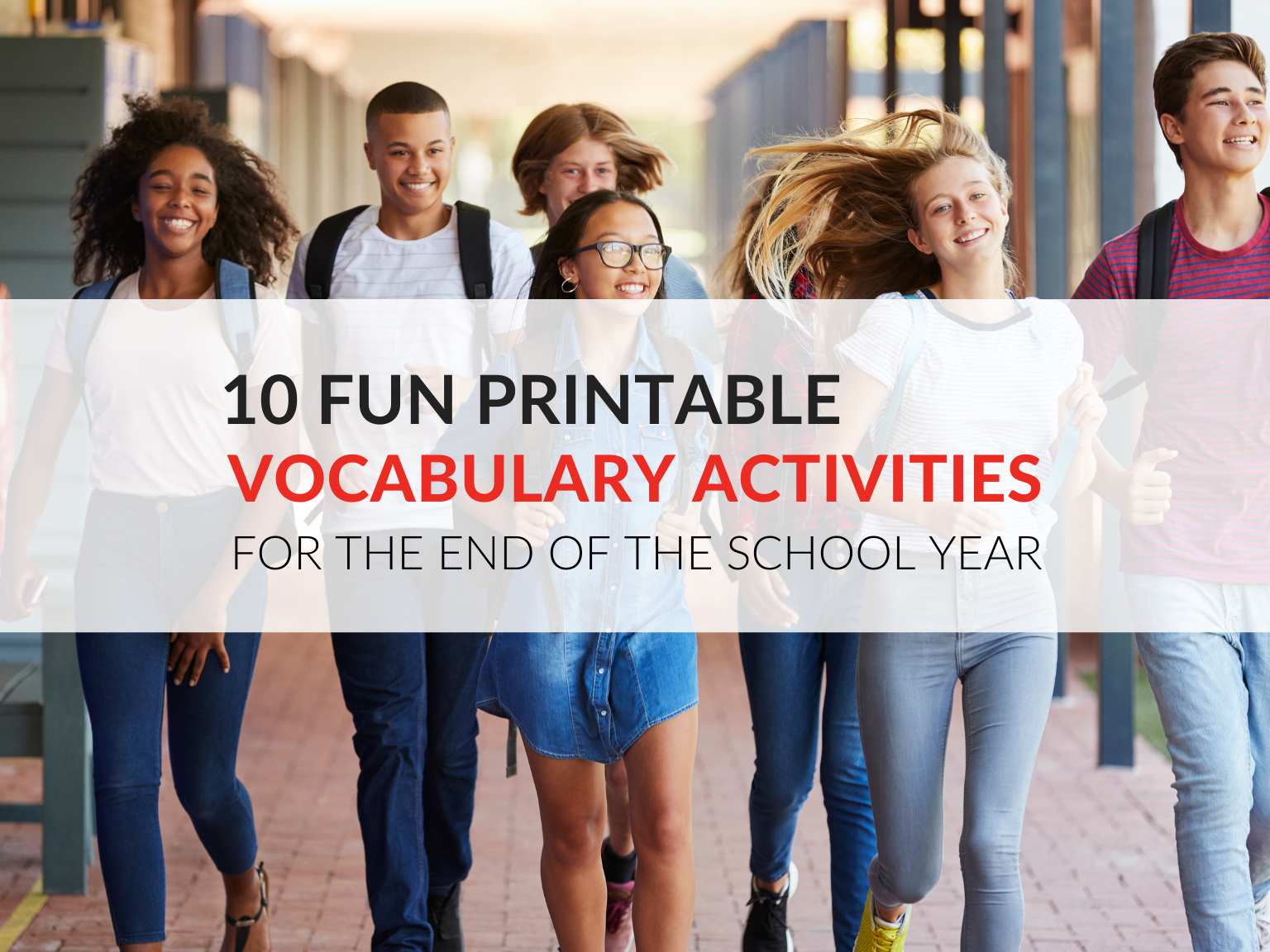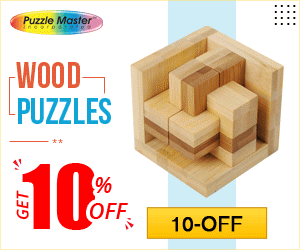 As the school year comes to a close, I find myself on the struggle bus right alongside my students. While they are anxious for summer, I am anxious to keep them learning. I want to make sure they really know the vocabulary words we've studied this year, as well as all the other reading, analysis and writing concepts we've developed this year.
Download Vocab Gal's Fun Vocabulary Review Activities Kit now!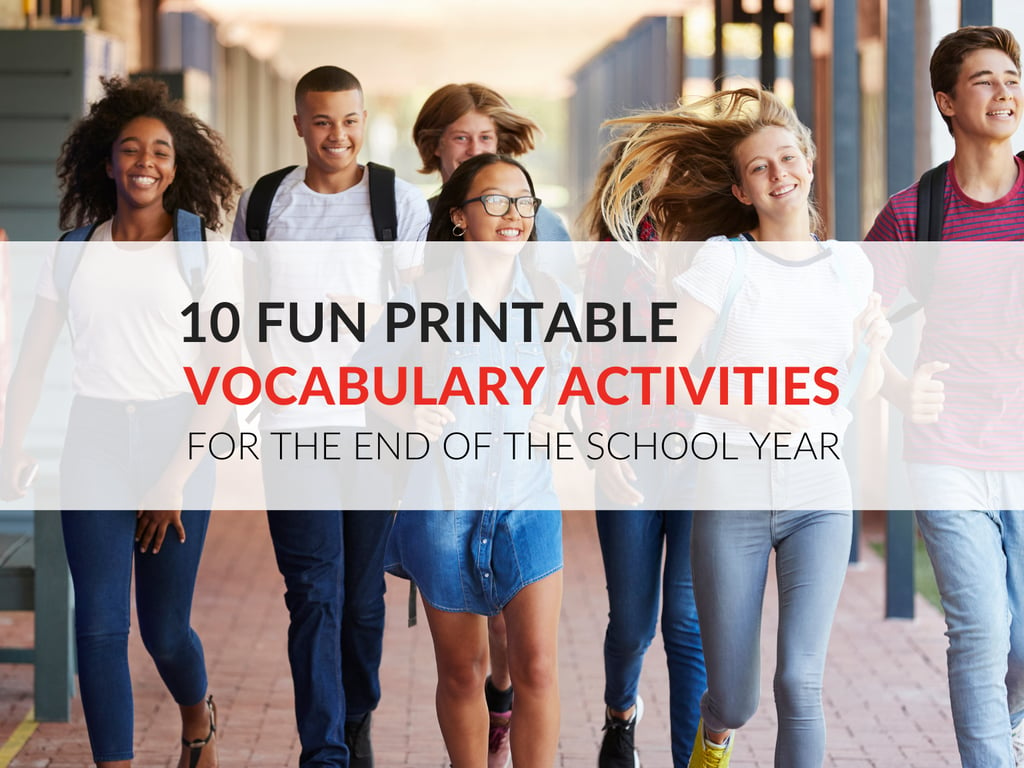 Keeping Kids Engaged in Learning at the End of the Semester
In order to keep everyone sane, I'm going to share ten fun vocabulary activities and games that will keep students learning until the end. For teachers, specialists and administrators, these gems provide opportunities to keep learning even in the midst of goofy schedules, humid temperatures and even a recalcitrant student or two.
Participating in fun vocabulary activities, discussions, and games are the last three steps in Marzano's six steps to vocabulary learning and critical to students' long-term word retention. Therefore, not only are these activities engaging for worn-out students, they are also incredibly important to word learning.
The easiest way to use the activities and games is simply as whole class instruction, and to perhaps pick one or two to complete a day. Alternatively, teachers can set up different activities and games at several different stations and keep students rotating to make time fly and word learning fast and effective! Regardless of which way works best, try to limit each activity to 15-20 minutes at the most in order to keep students engaged and working.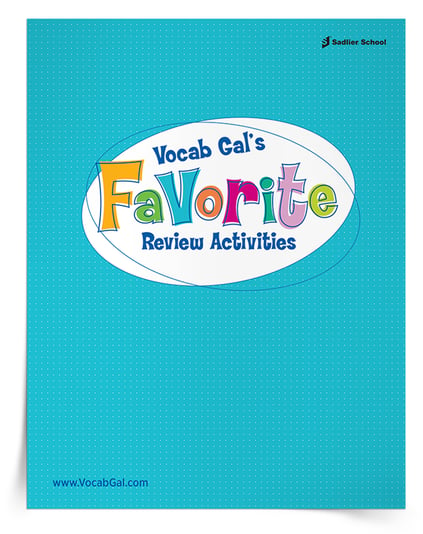 Fun Vocabulary Activities for the End of the School Year
#1 THE MANY FACES OF VOCABULARY
With the Many Faces of Vocabulary Activity students will piece together fun and interesting faces and then describe each feature using vocabulary words. This is especially fun at the end of the year when students are feeling a bit zany anyway to create motley faces for their amusement as well as their learning.
#2 BUILD YOUR OWN SUNDAE
When temperatures start getting hotter outside, this activity will cool everyone down. With this delicious vocabulary activity students will concoct and assemble delectable ice cream sundaes based on vocabulary words!
However, I don't promise it won't make you crave a sundae by the end of the day. Have students compete to see who has the most disgusting as well as the most delicious concoction.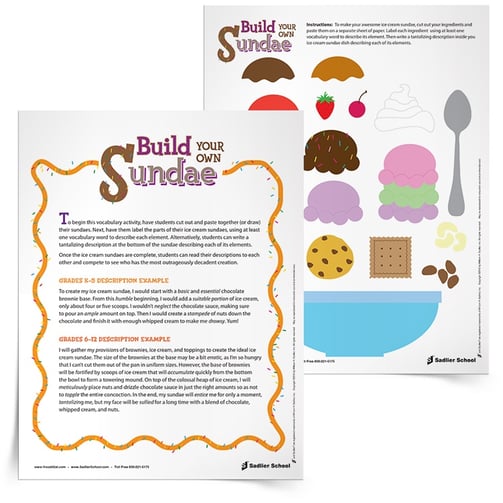 #3 VOCABULARY COMIX
Students and teachers alike love comics, and having students design and/or customize a comic that can share some key concepts in a "punny" way is an awesome opportunity for students to reflect on what they've learned and remind others who read their comic about vocabulary and other class topics. Use the Vocabulary Comix Activity to get kids reviewing, creating, and writing!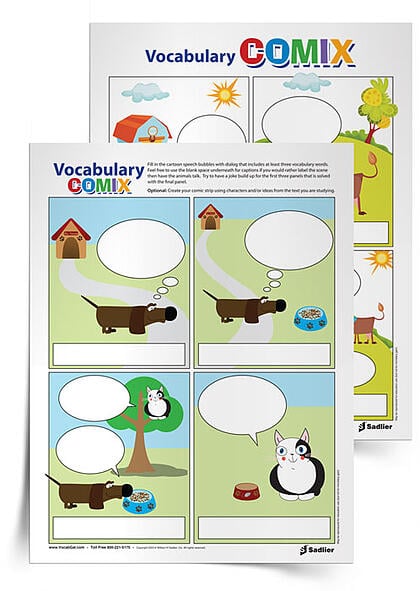 #4 COLOR YOUR VOCABULARY
When you can ask your students to do nothing but bring in a coloring book, they will have no excuse not to complete the task. With such fun new coloring book designs, students can really get creative in terms of how they can label their coloring pages with vocabulary, as well as sneak in other concepts from the year. If having students bring in coloring pages is too much work, download the Color Your Vocabulary Activity! 
See if you can have a contest to choose who best incorporated vocabulary and/or other class concepts into their page.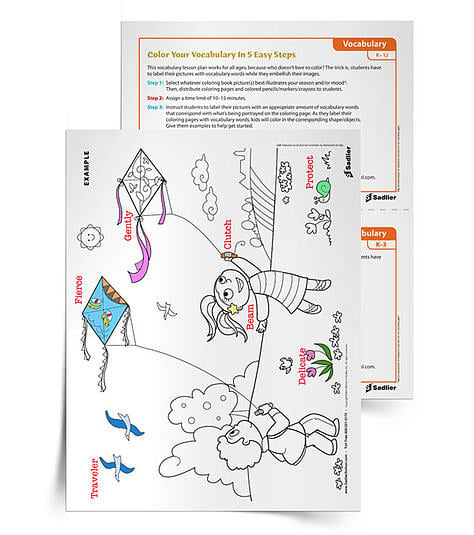 #5 VOCABULARY ROW RACES
A fun way to tell stories and use vocabulary words, Row Races can be used as a full class game or also station work. Row Races is a game that encourages students to use their vocabulary and creative writing skills.
Divided into teams of four, students will use a Row Races with Vocabulary Words Activity to create a cohesive story using vocabulary words.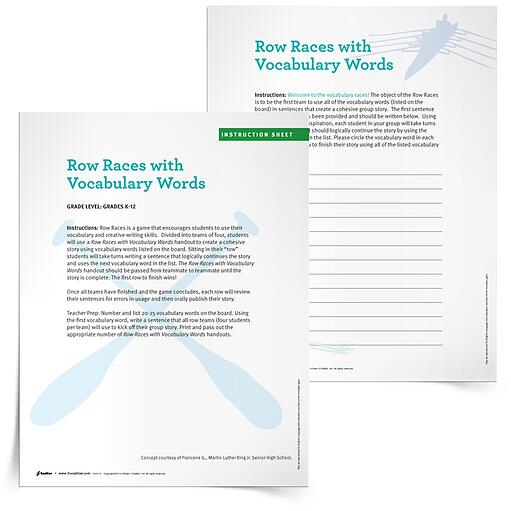 #6 VOCABULARY BALLOON TOSS
There are many great outdoor games that students want to play, and water balloon toss is one of my children's favorites. I couldn't help but think that combining a favorite pastime with word learning would make for an awesome vocabulary review activity. However, if you don't want to get wet, you can also play this game with small balls or crumpled up pieces of paper.
The goal is to know your words and not get wet (unless it's really hot outside).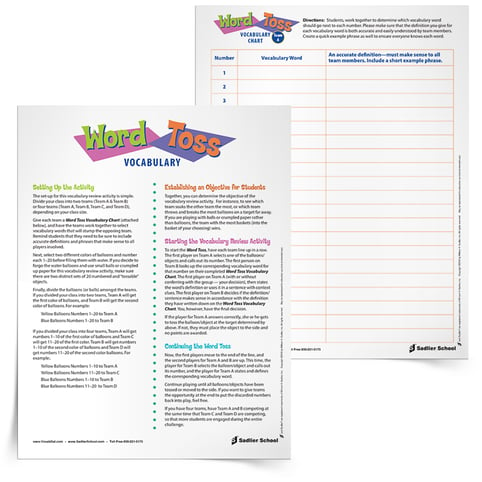 #7 VOCABULARY PLAYLIST
Another favorite vocabulary activity is the creation of a Vocabulary Playlist.
I have had one student who just could not seem to retain the meaning of vocabulary words, no matter how hard we tried to create mnemonic devices or connect to their interests. She mentioned the Vocabulary Playlist assignment where I had students link each word to a specific song. She said that she really liked that activity and learned her words well that way.
So after two abortive attempts to make up a terrible score on a unit quiz, she finally passed the quiz with flying colors-because she had a study method that worked!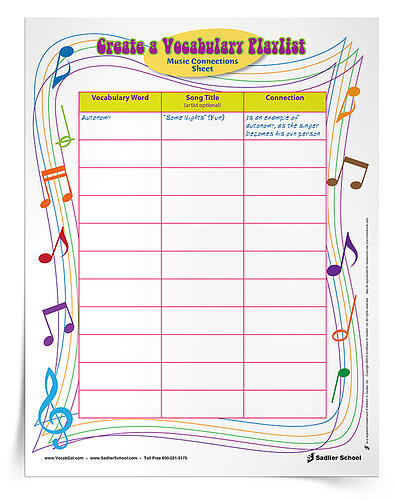 #8 ORANGES TO ORANGES
For longtime blog readers, this game is the one that I cite most often, because it tends to be both my favorite and a favorite among students. What could be better than discussing with which item a vocabulary word matches best? There are several variations of this game, and each can be played in turn to keep reinforcing word learning.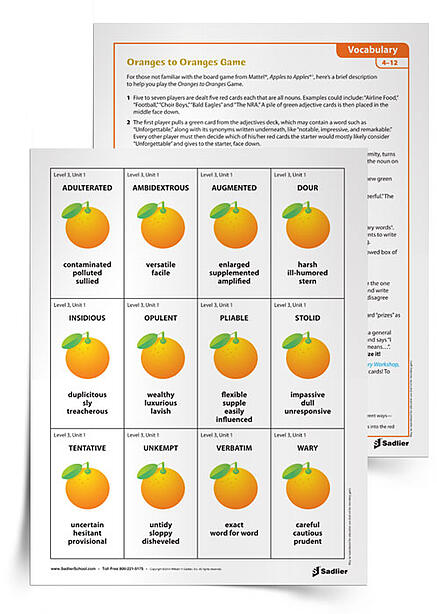 #9 BANNED WORDS
Another classic game, students have to get their teammates to guess which vocabulary is being described, even though they can't use any of a list of most popular 'banned' words that connect with the vocabulary word. Just making the cards alone is an excellent activity and the game is just an extra bonus.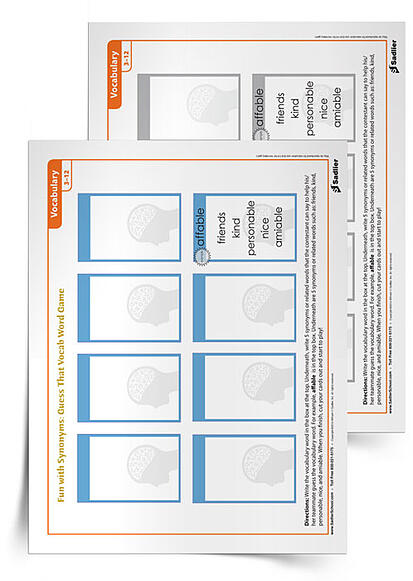 #10 VOCABULARY VIDEO GAME
One of my most recent favorites, telling students they are going to create a video game in class will get even the most effete students to raise an eyebrow. Lead with the bold graphics and fun design, and forget to remind them of how much they are learning while they complete the tasks.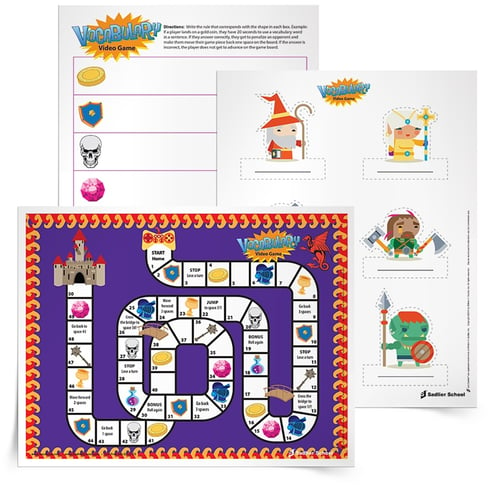 In Summary
So as your students become a bit more restless, listless or just plain recalcitrant, hopefully you can encourage your students to learn and apply their vocabulary and have fun doing so!  
Marzano stresses that steps 4–6 are crucial in vocabulary retention, and Vocab Gal stresses the importance of making learning enjoyable, so these ideas can really make an impact on students, even when they aren't sure what is happening in class!
Do you have any other fun vocabulary activities to keep students focused at the end of the semester? If so, please share!