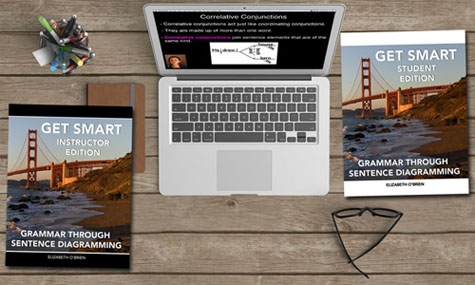 Hello! I hope that you and your family are doing well. We sure are going through a challenging moment—on a family level, a community level, and a global level. I'm guessing that if you're a teacher, your school has switched to online learning for a minimum of two weeks, if not the rest of the school year.
If you're scrambling to put together online lessons for your students or your children, I think I can help. The courses listed on this page would all work well in an online learning environment. 
I know that for many people, this is a time of financial stress and uncertainty. For at least the next few weeks, we're discounting these courses. The prices listed on this page reflect these discounts, and they will be automatically applied at the time of checkout. We also have a 100% money-back guarantee, so if something you order ends up not being a good fit for you, just send me an email and we'll send you a refund. 🙂 Stay safe and keep learning!
1. The Get Smart Grammar Program (37 Online Videos, PDF Lessons, & Sentence Diagramming Software)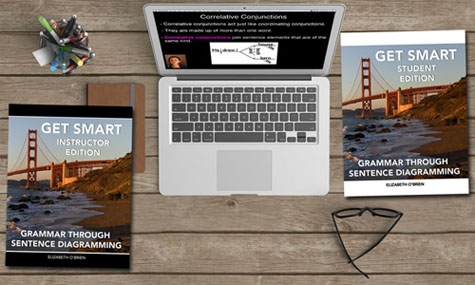 37 Video Lessons 
Online Sentence Diagramming Software
PDFs of Student Files & Answer Keys
4th Graders – Adults
Learn grammar and sentence diagramming with video lessons, written exercises, and online sentence diagramming software. 
Each of the 37 lessons includes a 5-15 minute video introducing a new grammar concept and at least five sentence diagramming exercises.
Complete the exercises online or print out a PDF and complete them by hand.  
The Get Smart Grammar Program covers all of the essentials in grammar: the parts of speech, phrases, and clauses. Read more about this program here.

Home-Based
Includes 3 Student Accounts
$99 For 12 Months of Access

After 12 months, you'll have the
option to renew for $15/year.

School-Based, Per Teacher
Includes 35 Student Accounts
$149 For 12 Months of Access

After 12 months, you'll have the
option to renew for $30/year.
---
100%
Money-Back Guarantee

Secure
Checkout
2. The Writing & Grammar Course (30 PDF Lessons) *NEW*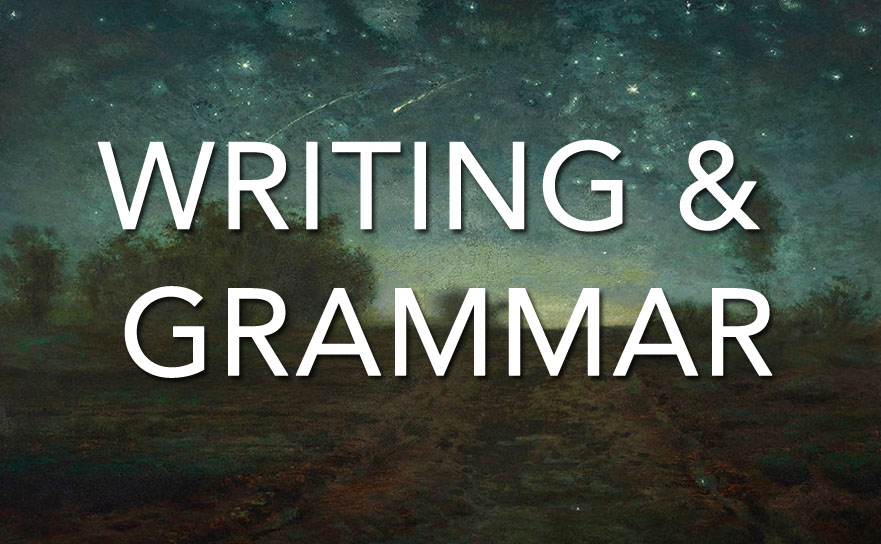 Read more about this course here.
See a sample lesson here.
30 PDF Lessons
Lifetime Digital Access
Please note that due to the open-ended nature of the writing prompts, there are no answer keys included. I will, however, be adding potential answers for each lesson, and you are welcome to contact me if you have any questions. 🙂
7th Graders – Adults
Learn and implement tools for writing better sentences. These written lessons will teach you how to add variety to your writing by using certain grammatical structures (adverbs, absolute phrases, prepositional phrases, dependent clauses, and more). 
These lessons include written instruction and a writing prompt to practice applying each concept.



Home-Based Digital Access $37



School-Based Digital Access (Per Teacher) $47
---
100%
Money-Back Guarantee

Secure
Checkout
3. The Smart Punctuation Course (20 PDF Lessons) *NEW*
7th Graders – Adults
Learn and apply the rules for correct punctuation. Each lesson contains rules for common punctuation marks along with exercises to help you apply what you learn. 



Home-Based Digital Access $27



School-Based Digital Access (Per Teacher) $37
---
100%
Money-Back Guarantee

Secure
Checkout