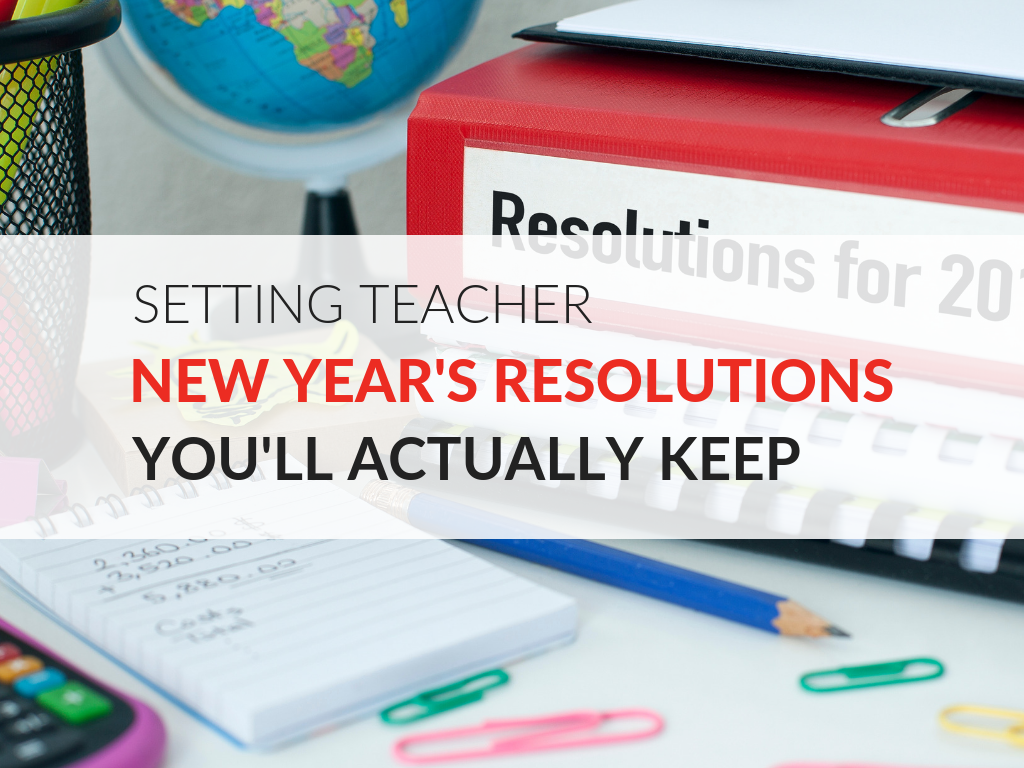 As an educator, I've always appreciated that the second semester of school kicks off right after the New Year's celebrations. It inspires me to reflect on the first semester and to look to the future with renewed excitement — and a list of resolutions. In this article, I'm sharing tips for setting teacher New Year's resolutions for the second half of the school year. Plus, download my New Year's Resolutions Worksheet that is based on the "Magic of Three." 

A Simple New Year's Resolutions Worksheet Printable for Teachers
Because I have a "type A" personality, I am a big fan of planning and making lists. I love crossing off each chore on a list as I complete it. And, yes, I am the kind of person that adds things I have already finished to my list, just so I can cross them off. Now that we have entered the age of technology, I started making lists on my phone, but deleting the completed items until you are left with nothing just doesn't give me the same thrill as having a list of ten items written on paper and seeing them all crossed off.
Every winter break I combine my obsessions with list making and planning, in order to set resolutions for the coming semester. Now, before I share details about how to use the New Year's Resolution Worksheet, let's talk about setting attainable teacher New Year resolutions.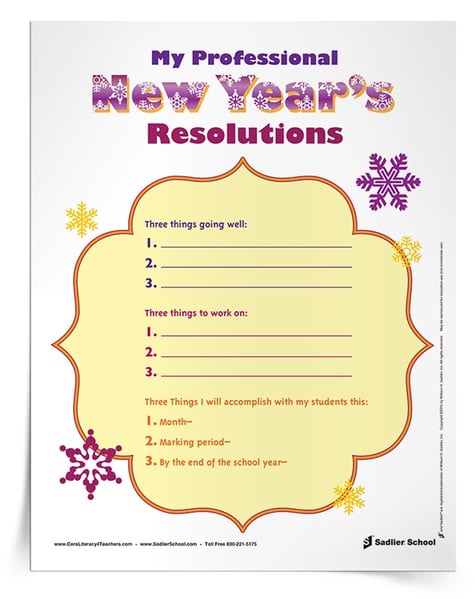 Setting Attainable Teacher New Year Resolutions



Setting attainable teacher New Year resolutions can be tricky. With the standardized testing season looming, it's easy to get carried away with setting resolutions that support assessments and student performance. There is also a tendency to write a long and a detailed list of resolutions that cover every aspect of the classroom.
Professional development resolutions? Yep!
Supporting students' emotional well-being? Check!
Updating lesson plans to include strategies you learned about at the latest education conference? Of course!     
If your classroom-related resolutions are too broad, you will most likely end up with a list that leaves you overwhelmed and feeling a bit blue. That's why I created the New Year's Resolution Worksheet. The New Year's Resolutions Worksheet is based on the "Magic of Three." On the worksheet you'll find three categories:
Three things going well:
1.
2.
3.
Three things to work on:
1.
2.
3.
Three things I will accomplish with my students this:
1. Month:
2. Marking period:
3. By the end of the school year:
Examples of Teacher New Year's Resolutions
As a classroom teacher, you can focus your resolutions on any subject or professional area where you would like to make improvements. Because I am a literacy specialist, I usually focus on reading. Here are a few examples of things that I plan to work on in each of the three categories above.
Something that is going well is the "character trait" unit I have been using with my students. I like strategic methods that can be used to analyze characters, and as a result, my students are doing better with character analysis than ever before. My printable The Isle of the Lost Character Trait Worksheet, Fish in a Tree Character Chart, Describe Characters in a Story Graphic Organizer, and Character Study Graphic Organizer were a hit with students and can be downloaded for free!
Something I am going to work on is keeping track of my students "interest/independent books" in their browsing box. I tend to focus more on their small group books, but their independent books are important, too. Utilizing reading logs should help with this goal. Download my Student Reading Log handout if this is an area you are working on as well.
Something I would like to accomplish by the end of the school year is making a point of doing a "compare and contrast" activity with my students at least once a week. Being able to "compare and contrast" is not only a requirement of the CCSS, but is also a necessary skill for any analytic reader. If you will be working on this skill, look at compare and contrast lessons such as the Cinderella Stories Compare and Contrast Unit or the Presidents' Day Compare and Contrast Lesson Plans.
In Summary
Setting teacher New Year resolutions based on the "Magic of Three" will ensure you'll stay on track and keep the resolutions you set for your classroom. Download the New Year's Resolutions Worksheet to help you plan ahead for a successful second half of the school year. Cheers to a prosperous New Year!
Bonus PD Worksheets for Educators